For over 10 years we have been experts in private label products. We develop private label recipes with you, working together to implement your ideas and needs. As a service, we offer white label production from A-Z. Your brand, as produced by biologon, is not only certified organic, but also the best premium quality.
Organic muesli of biologon is highest quality and an extraordinary taste experience. Quality goods are being mixed by our trained employees to minimize unwanted flake-breakage.
Our crunchies are baked traditionally and gently baked in rack oven in our in-house bakery. Selected organic foods of highest quality are coordinated individually and are refined to a true crunchy-dream.
Organic Granola- gently baked, low sugar content, without added granulated sugar, with high quality European plant oil. For a long time specialising has been our key to success! With target-group-specific recipes we meet the individual expectations of our clients.
Delicate oat flakes are classically the base of our organic porridge that is gently mixed by hand in miscellaneous combinations and refined with other selected organic ingredients. Our Porridge is ready to eat hot or cold without having to soak for a long time.
Organic, vegan, gluten-free, no artificial flavouring, no preservatives and no granulated sugar are the attributes that distinguish our soft bars. The organic energy bars are produced in our in-house bakery.
We are a Tyrolean family company specialized in the production and refinement of high-quality certified organic food. Our core competencies are gently hand-mixed muesli and traditional rack-oven-baked crunchies.
To ensure the high quality of the cereal clusters, our crunchy is spread over the baking sheets by hand. With this traditional method, we can also influence the size of the cereal clusters to match your requirements. The mueslis are gently mixed by hand to minimize flake breakage.
Our crunchy is traditionally produced: spread over the baking sheets by hand and then gently baked in rack ovens.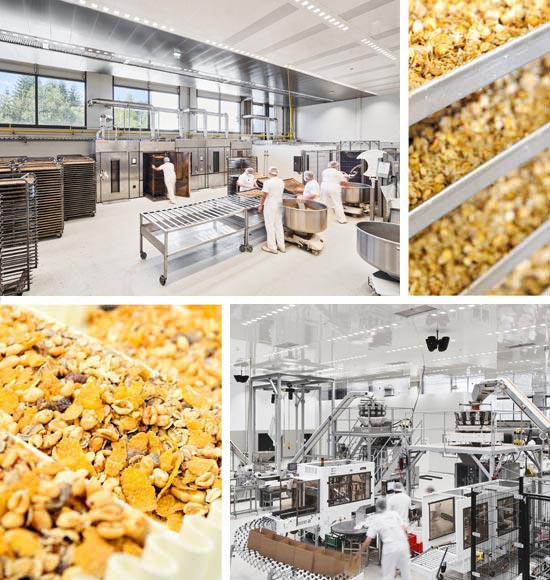 Quality and innovation are our guiding principles. With our in-house research and development, we respond to the customer specific requirements developing innovative recipes and products.
Our close partnerships, such as with Nothegger Transport & Logistics GmbH, allow us to offer flexibility and speed while remaining eco-friendly.
Our production is 100% supplied with green electricity from Tyrolean hydropower. Raw materials and finished products are transported intermodally using state-of-the-art equipment. In cooperation with the BOKU Vienna, we counteract any unavoidable CO2 emissions with carbon credits from climate protection projects.
Unser Standort in Hochfilzen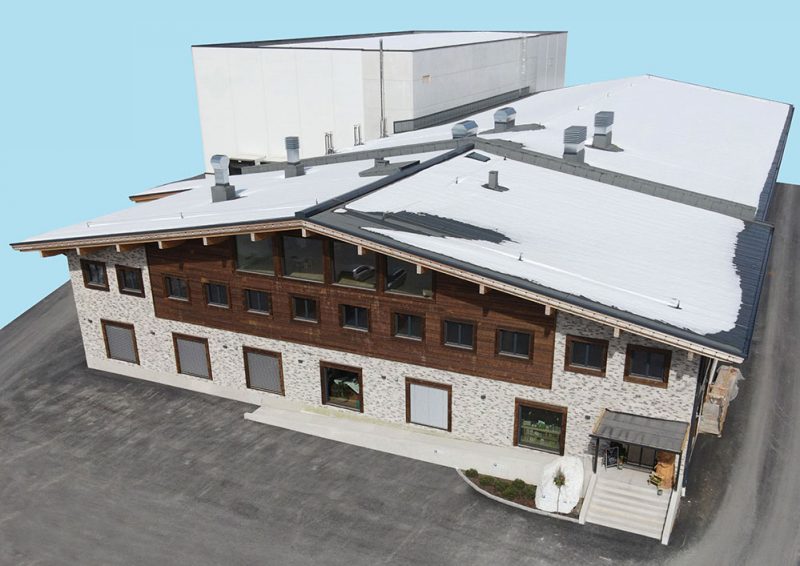 Private Label – Important Facts
The recipes are always developed together with the customer. We work together to accommodate your needs including special requests, such as reduced sugar, reduced salt, vegan, gluten-free, use of healthy fats. By selecting the best raw materials for your product and put them together in the best possible way, we create a high-quality product for you.
Thanks to reliable partners with expertise in graphics and packaging, we can quickly offer individual packaging and display solutions with flexibility. We provide tubular film bags with front and back labels, printed films, Doy Zip Packs, composite cans, To Go Cups or much more – let's find the best packaging for your product together!
The logistics forwarding company Nothegger Transport Logistics from St. Ulrich am Pillersee was founded in 1992 and has 15 international branches in 5 countries with a fleet of over 700 vehicles. Transporting goods with Nothegger is environmentally friendly: using state-of-the-art equipment and, when possible, by rail.
Sie wollten schon immer mal Ihre eigene Produktidee verwirklichen und das individuell in der Zusammensetzung ganz nach Ihren Vorstellungen? Genau diese Vorstellungen können wir für...
Read More